As the title says, I am Alice. Mom says that I am around five weeks old. I have lived with my hoomans for a week now. Mom says that is a really big deal.
Apparently, I am not her first guinea pig. (we never are, are we)
A few months ago, there was a petstore pig. Her name was Bella.
The way I hear mom explain it, she found out that Bella was only two weeks old. She was pretty sick as well. Mom tried to help her.
The small hooman here (the one I love best) told me that she was really sad about losing Bella.
But now I am here. Mom had me in this sweet Italian petstore cage. Maraschino or something strange. It was really big. My old cage was kinda small.
I remember being scared to death the first two nights. It doesn't help that the heat in the apartment decided to break the night I got here. They couldn't fix it for two days. So to add to being scared, I was cold. And mom packed me up and took me places with her cuz she didn't want to leave space heaters on.
It took me a bit to adjust to this new house. I stayed in the pigloo unless mom took it from me. Something about showing my gorgeous face. I dunno. Whatcha think? Am i a cute pig?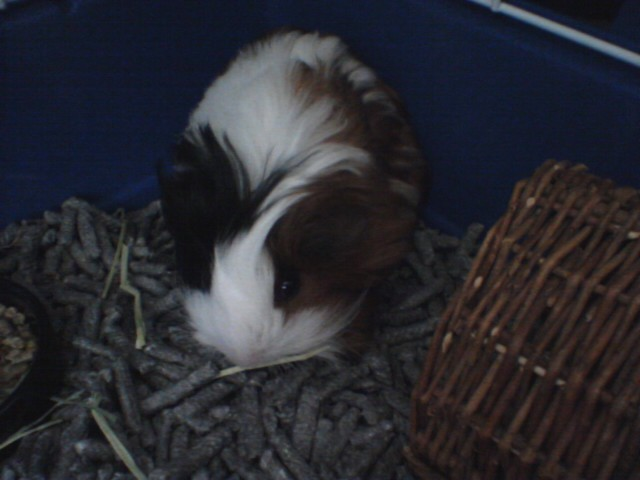 Dad says I am really sweet and cute. He apparently is not a pet person, so he hasn't touched me. He talks to me a lot and will watch me when he thinks nobody is looking.
Mom has a pretty vulgar way of saying that she doesn't want to write too much at once and have nothing else. I will just say, "later tater".
Oooh, speaking of food, wheek wheek wheek....