Good evening all...my name is Augustus and I'm here to tell you a tale; A tale of a marvelous land that is every pig's dream. A land where no human goes...and there is only quiet and dark. A land called...Inside the Sofa.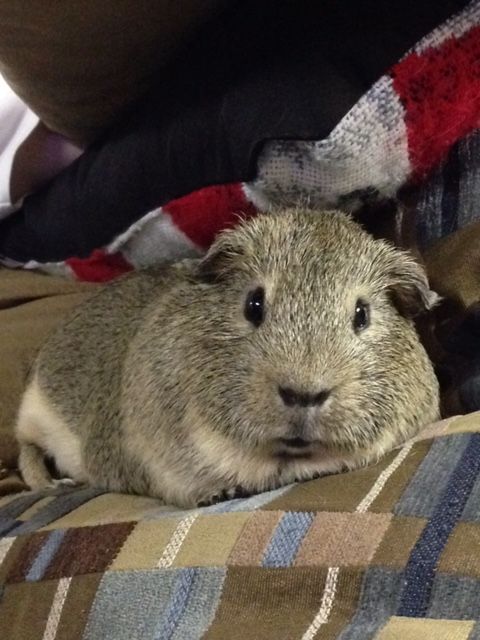 It all started last weekend. My female human slave (FHS) was away for something called "military duty" and I was alone with the male human slave (MHS) and the tiny human slave (THS). After much squeaking and running about the cage, I finally allowed MHS to pick me up on the promise of salad. He put me on the living room rug and as is my typical routine, I grabbed a piece of lettuce and made haste for under the sofa. The human slaves don't seem to mind when I do this and they are never far from the area. It's a great place to nap.
But then...I spotted something. What's this? Is it a doorway to some magical land? It is!
Slowly...slowly, I make my way up, up, up! Not long after that MHS and THS notice I've disappeared. I can hear them moving about, talking, looking, wondering where I've gone.
The game is afoot! They've finally figured out I am IN the sofa. I make my way back through the "door", which MHS promptly fixes by tearing the whole bottom off the sofa when he realizes where I've been hiding.
Upon her return, FHS said it's a good thing I'm so adorable and I best not pull any more naughty stunts like this again or I will be relegated to floor time in the pen like those rowdy adolescent pigs who live below me.