---
---
---
---
---
---
---
Little Jo Wheek
---
Broken Color
Brandilynn's Kai, Silver Agouti and White American
Brandilynn's Taj, Beige and Orange Abyssinian
Weaver's Dudley, Red and White wannabe Teddy
Weaver's Belle, an Orange, Chocolate, and White Abyssinian
TS
Weaver's Roxie, a longer haired American
TSW
rshevin's Piggy, an American
Weaver's Sidney, a Peruvian
Weaver's Sherman, a Peruvian
mmercedesmom's Reginald, a Skinny Pig
mmercedesmom's Reginald, a Skinny Pig, Top View
mmercedesmom's Reginald, a Skinny Pig, Right Side
Roan
SusieQ's Mittens, a Golden Agouti and White American
---
Little Jo Wheek
---
Just adding breed genotypes since the discussion came up on another thread.

Here is the list I have of the "main" breeds (missing a few certainly) and the 5 main Loci:

The 5 Loci are: Rough (rosettes and ridges), Long, Star (this is the single crest on the forehead of Crested breeds, Coronets, Merinos, etc.), Teddy, and Satin

American: rr, LL, stst, TT, SnSn
American Satin: rr, LL, stst, TT, snsn
Silkie: rr, ll, stst, TT, SnSn
Silkie Satin: rr, ll, stst, TT, snsn
Crested: rr, LL, StSt, TT, SnSn
Teddy: rr, LL, stst, tt, SnSn
Teddy Satin: rr, LL, stst, tt, snsn
Texel: rr, ll, stst, tt, SnSn
Merino: rr, ll, StSt, tt, SnSn
Coronet: rr, ll, StSt, TT, SnSn
Abyssinian: RR, LL, stst, TT, SnSn
Abyssinian Satin: RR, LL, stst, TT, snsn
Peruvian: RR, ll, stst, TT, SnSn
Peruvian Satin: RR, ll, stst, TT, snsn

(you can pretty much make any breed a satin with that gene... I'm not going to list all of those genotypes)
---
---
I want to talk about the tan color because there are not many informations about it.
A tan guijea pig will have on the body black or a diluted color of black (choccolate, slate-blue, liliac, coffe, beige) and golden marks: on the belly, around the eyes, the nose, sides of the mandible, the inside of the legs, on the ears.
These marks are not actualy pure golden, but agouti. Tan is, actually, an agouti with the
at
gene. This gene stops the red color to lie all over the body, the red colour appearing just in the marks mentioned above.
Black tan:
Lunabakelo Chaplin, Black Tan sheltie (silke); owner: Ramona & Emil Visan (Inka caviary)
Liliac tan:
Be my lover from INKA, sheltie (silke) liliac tan; owner: Monika Spychala
Baby Ametist from INKA, texel liliac tan;
Lilliac tan, slate-blue tan, black tan:
(Ametist from INKA, Lunabakelo Fantasy Girl, Lunabakelo Chaplin)
Baby beige-golden tan: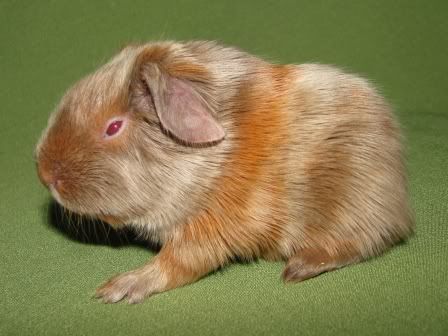 Choccolate tan:
~I am sorry; this photo is too big. Can someone make it smaller?~
It's Choccolate Time from INKA; owner: Mara Coteata (I will take a photo of his belly too)
---